The story of the San Diego Cajun Playboys is a story about Louisiana.

It's also a love story . . . about the love of Cajun French music, and our love and appreciation of real Cajun culture . . . all made possible by the generosity of all the friends we've met along the way, many of them Cajun, who made all the hidden treasures of South Louisiana Cajun country come alive.

The history of our band is a sixteen-year journey from Louisiana tourism – to bringing back our excitement for what we've found – to replicating authentic Cajun French music in Southern California at dance halls in San Diego, Los Angeles, Pasadena, and Monrovia over the years, as well as all the big Cajun festivals from San Diego's Gator by the Bay, to Simi Valley, and the Long Beach Bayou festival – to passing such a good time with what we do, that we became a magnet for Louisiana Cajuns away from home, looking for a little slice of Cajun culture on the West Coast – to recording our first CD with an extraordinarily talented Cajun musician, Loreauville's own Joel Breaux, in 2004, after playing together for five years of non-stop Cajun dances – and finally with a return of the whole band to Louisiana on August 18, 2006, to receive the Cajun French Music Association's "le Cajun Award" for the best Cajun band outside of Louisiana, the prix dehors de nous. Joel and his wife Lisa were back in Louisiana by then, so our band had come full circle to where it all started . . . visiting friends in Acadiana.

So if you know your Cajun music when you hear it, come on down and see us sometime. You'll be glad you did. Survey results have shown that ten or nine out of ten Cajuns prefer the San Diego Cajun Playboys to other local brands. Come pass a good time with us at one of our events.... or send us an e-mail.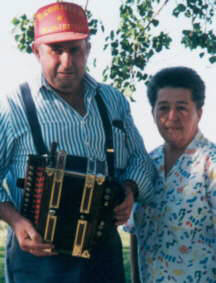 Dick and Germaine Richard (requiescat in pace) makers of Jon's Pointe Noir "C" accordion.